23 June 2022
NewsProduct
Two new breakthrough products that guarantee maneuverability and performance without compromise. Redefining the mowing experience from top to bottom.
The very first walk-behind lawn mower was developed in England in 1830. Since then, the core design of this ubiquitous gardening machine has remained largely unchanged, at least until now. STIGA is now setting completely new standards for walk-behind mowers with the launch of Aero and Fulcrum, two pioneering products that respond to different user needs and that bring innovative technologies and design in the traditional category of lawn-mowing.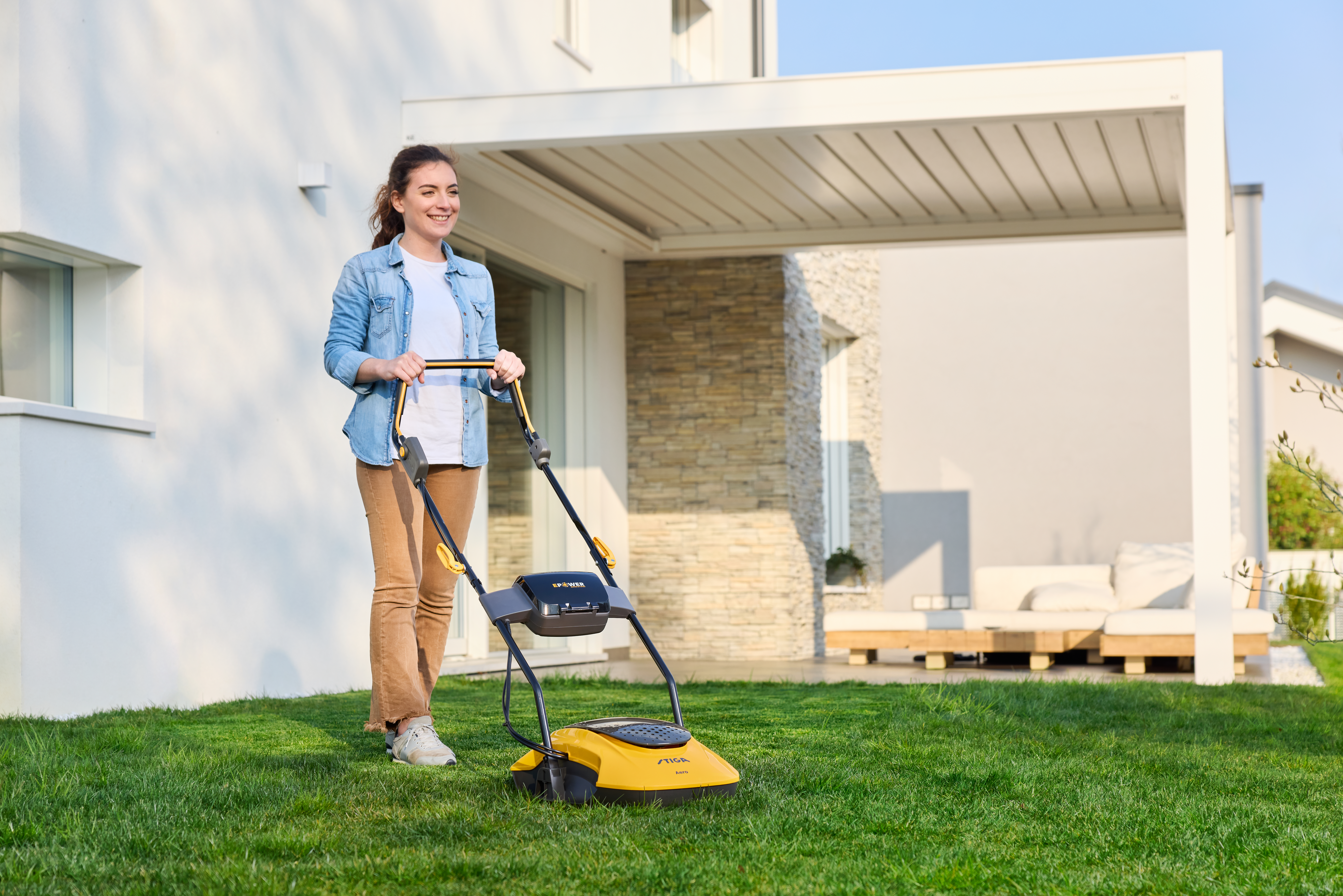 STIGA Aero – first cordless battery-powered mower that glides on air 
Aero is the first cordless battery-powered hover mower that floats above the ground thanks to fully patented, innovative technology. Ideal for small gardens, up to 100 sqm, the product even works for uneven to steep terrains thanks to its lightweight and compact design. Aero works with two of STIGA ePower 20V batteries (4 Ah) allowing for the absence of cumbersome cables that make it extremely safe and enjoyable to use. Additionally, the combination of a powerful 750W motor and its unique STIGA patented design, create an optimal air cushion effect. 
Small yet incredibly strong, the new mower is designed for ultimate convenience. In fact, STIGA Aero comfortably mows even the trickiest spots and slopes, as the hovering on the air cushion allows the mower to be effortlessly maneuvered in any direction. The new blade and patented cutting deck shape optimize energy efficiency and guarantee consistent, optimal cutting results. What's more, an on-off handlebar control means there's no fiddling with cutting heights or blade speeds. Moreover, thanks to its weight of only 7 kg (without batteries), the mower can be easily hung on the wall or stored in small areas.
Discover more here.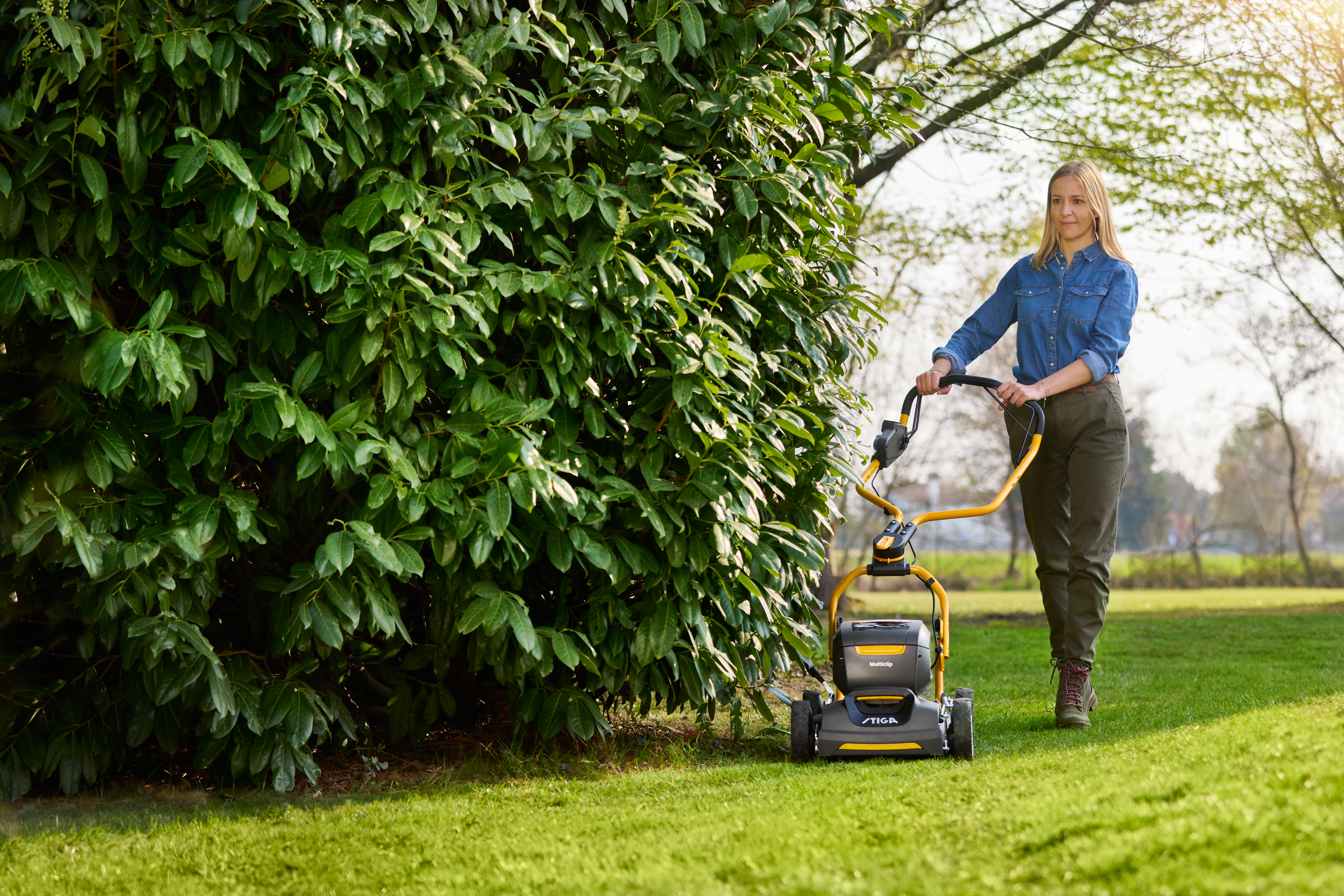 STIGA Fulcrum – a star for seamless man-machine interaction
In walk-behind lawn mowers, the handle is the interaction interface between the user and the tool. To improve handling even further, STIGA Fulcrum Technology now paves the way for a completely new, re-designed  handle concept. Simple, flexible, strong and managed just with a single click, STIGA Fulcrum is designed to ensure maximum comfort during assembly, operation and storage. To activate, the innovative handle is simply inserted into the metal clips mounted on the body and fastened there with two screws – and it's "ready for mowing". 
The STIGA Fulcrum's central mechanism is mounted below the steering handle, which is made of 25 mm thick steel. This handle's height and angle can be individually adjusted via an easy-to-use quick-release lever and can thus be optimally adapted to the user's personal preferences. The handle position can even be shifted on the left by up to 25 degrees. This allows easier lawn mower routing along hedges and walls. 
After the perfect cut, the STIGA Fulcrum can be compactly stowed away until the next use: The quick-release lever lets the handle rotate 180 degrees with a simple twisting motion, so that it can be positioned above the mowing deck to save space. The collecting bag has been designed to be easily placed  into the handle frame. 
Discover more here.