23 June 2022
NewsProduct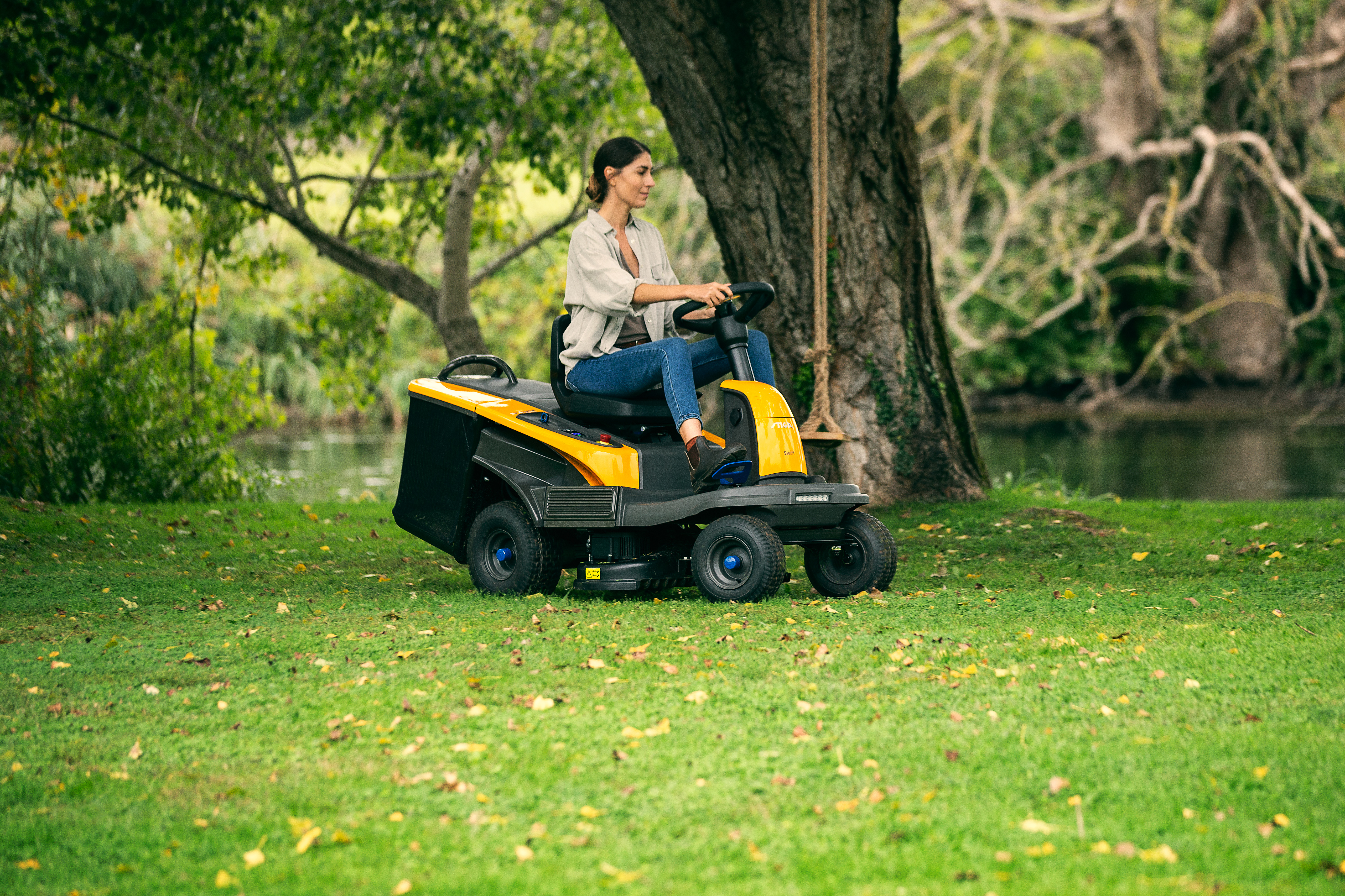 The new, innovative mower guarantees high performance, maximum flexibility and energy efficiency thanks to unique interchangeable ePower batteries compatible with all other STIGA battery handheld equipment.
STIGA unveils Swift: its first electric garden ride-on mower with interchangeable batteries, that was conceived, designed and engineered from the beginning "to be electric". Drawing on the company's heritage, the new and innovative product confirms a commitment to balancing product competitiveness and effective use of resources thanks to sharable energy.
Swift is a ride-on mower which meets the high demands of environmentally friendly and resource-conserving work, ensuring maximum performance and the greatest possible flexibility, in turn setting a new brand standard in ePower. Indeed, STIGA's innovation comes in the form of the first ride-on mower with interchangeable batteries. STIGA is now the first manufacturer to feature interchangeable batteries and a full range of garden tools, from handhelds to walk behinds and collecting ride-ons, to suit all user needs, garden architectures and price ranges.
Compatible batteries that provide convenience and energy efficiency 
The STIGA Swift is equipped with a combined 25 Ah battery pack comprising four 48V batteries (2 x 5 Ah + 2 x 7.5 Ah), included in standard delivery. Innovative interchangeable batteries make for riding time beyond expectations, rendering the Swift ideally suited for use on complex lawns. The batteries work synchronously and constantly balance the available energy: Onboard charging supplies new energy to one battery after the other, so that the first one is ready for use again after just 30 minutes. A further innovative feature is the system compatibility of the high-performance power units. 
Running reliably and efficiently on only three batteries, users will benefit from the flexibility of these batteries and can always count on full ePower.  In fact, these are interchangeable and can be used seamlessly in a wide variety of STIGA range handheld equipment, facilitating multiple complex tasks like cleaning up pavements with a leaf blower, or even trimming back hedges with multitool equipment.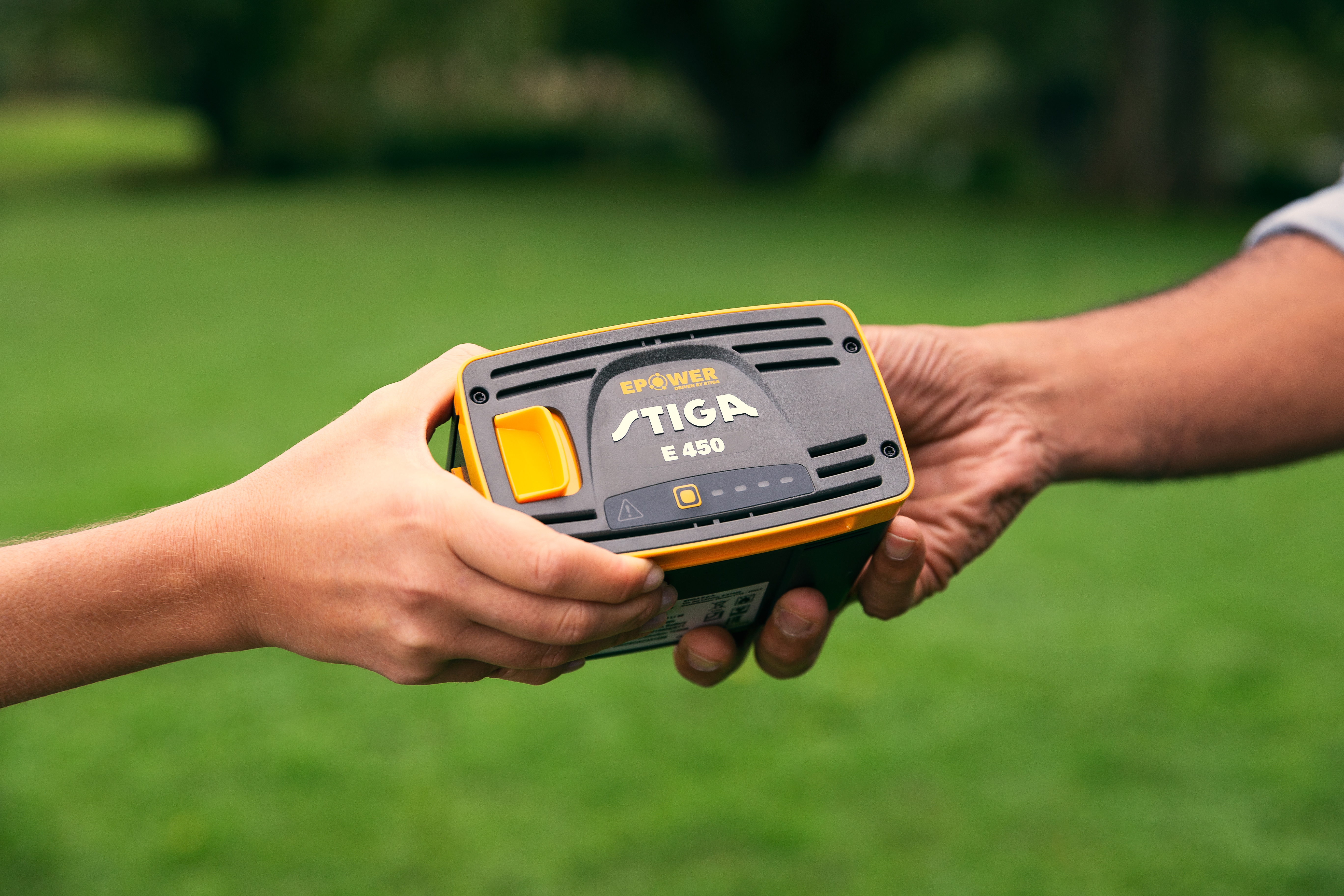 Short turning radius, smart mowing mode, and a positive environmental impact
Swift is the optimal solution for mowing complex gardens, featuring a width of just 73.5 cm improved to master even the "narrowest" of challenges. It also has an extremely low minimum outer turning radius of 1.62 mt, offering the greatest possible maneuverability, improving its potential to work cleanly and precisely even in areas with many obstacles. Cutting-edge mowing technology and smart mowing modes optimize Swift's operation. For example, three mowing options are available in total according to demand and energy consumption: While the standard mode provides a performance of blade speed of 3,500 rpm, the boost mode with 3,700 rpm masters even dense, tall lawns with ease. Finally, the eco mode (3,200 rpm) saves users up to 40% energy, covering an area of around 2,800 sqm, highlighting its environmentally friendly qualities.
Comfortable and safe handling
Equally convincing is Swift's comfortable handling: Low-vibration, ergonomic features and a reduced noise level guarantee pleasant and quiet operation. While the steering wheel can be turned easily with just one finger, the one-button start, cruise control and STIGA One Pedal Drive ensure intuitive start-up and driving. On the other hand, the tractor gently stops automatically when the drive pedal is released. The parking brake also activates automatically as soon as the machine comes to a stop, with no need for manual intervention. 
With a low centre of gravity of 35.1 cm, the Swift brings manageability and safety to every cut. In fact, the new dual-blade mowing deck is designed for more efficient airflow inside the tunnel and at the blades, which also improves the collection of grass cuttings. This is complemented by the shredded grass being fed reliably, quickly and without clogging into a 170 L catcher bag. Swift is also equipped with a special washing attachment, facilitating cleaning, only taking a few seconds after the work is done.
To round out the experience, Swift offers extended connectivity through the "STIGA.GO" app – a Bluetooth module that connects the machine's electronic brain, the STIGA Vehicle Management System, with the smartphone – with which users can visualize real-time data on the current session while on-board, constantly keeping track of the current battery status and also adjust the various settings to suit their personal needs. 
Discover more here.